Yofee's Friends
Yofee is a Dog. She is an essential part of the Dogs Against Drugs Program. But, there is more to Yofee then just being your pal.
He will educate you and your children. His pages are extremely important and a must read for adults and children alike.
Dogs Against Drugs is a volunteer organization which serves school children. It ie very important to realize that unlike other volunteer programs, this program is totally volunteer, which means there are no salaries or overhead involved. All work is done in the homes of the volunteers.
In 1991, Yofee was selected the OUTSTANDING TEACHING ANIMAL by the Human Animal Bond Committee of the California Veterinary Medical Association. She has also received presidential citations from both President Clinton and President Bush. Being associated with Yofee is extremely important to me, because she is associated with so many of the programs that I am concerned about.
Her search and rescue, and disaster training was crucial during the 1989 San Francisco earthquake, as well as during the search for Polly Klass.

The Dogs Against Drugs Program consists of a talk about tobacco and addiction, and showing an anti-cigarette/second hand smoke video.
Dogs Against Drugs has also developed a special K9 oriented program for learning disabled children. Yofee can teach them how to brush their teeth, do arithmetic, and how to avoid going with strangers.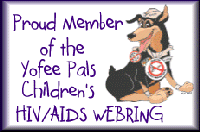 This program offers a variety of educational and teaching materials. Please goHere to learn more.
More recently, Yofee has been concerned with Educational materials concerning HIV/AIDS
This is an issue that most do not want to think about. It is an issue that far too few parents seem to want their children educated in. The fact is, this is an issue which stares us in the face daily. it is an issue that must be dealt with, both in education and research
1,000 students, grades 4-9, were interviewed. They were asked what they want to know about HIV/AIDS. 391 of these students replied that they didn't want to learn more, but 663 felt that more information was essential. That means that 2/3 of these students are aware of the issue, and realize the importance of education.
The following are a few of the questions the children felt needed to be addressed:

Does HIV/AIDS have a cure?
How long do you have until you die of HIV/AIDS?
How did HIV/AIDS start?
Can you inherit HIV/AIDS from your parents?
What is the difference between HIV and AIDS?
How does HIV/AIDS spread?
How many ways can you get HIV/AIDS?
How can you tell if a person has HIV/AIDS?
How can you prevent HIV/AIDS?
How can you find out more about HIV/AIDS?
What does it feel like to have HIV/AIDS?
How many people on the average get infected each month?
How does it affect the brain?
How did the virus come to the U.S.?
The result of this poll and the concerns addressed by these children are answered in:
A Book By Children For Children
Please
Take the time to Learn More
---
These children are missing

Please click on to any name to learn more
Background byLinda
Yofee Images from Yofee Page
This page last updated: January 31, 1999