While the POW/MIA issue is catastrophic; we, the American public, far too often forget about the veterans who have dedicated themselves to protecting not only the American citizenry, but also the citizens of the world. This page is dedicated to those who have served in the military; whether it be during war, national or international conflicts, or peace keeping missions the veterans of the United States Armed Forces deserve our recognition, respect and appreciation.
Below is a list of veterans; active and inactive; alive and deceased. This is our way of saying Thank You to those who have kept the Spirit of Freedom alive!
We are always accepting the names of Veterans to add to this list. Please leave your name, or the name of a loved one in our guest book, along with any pertinent information you would like added to this list. List will be updates weekly.










"No man is an island, entire of itself
Any man's death diminishes me
Because I am involved in mankind;
And, therefore, never send to know for whom the bell tolls;
It tolls for thee"

John Donne "Devotions Upon Emergent Occasions"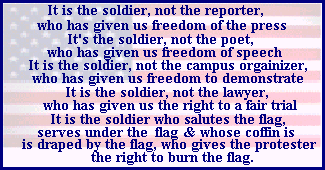 We Salute These Men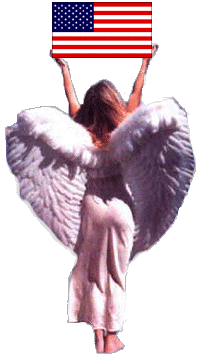 Dunkleman, Jeffrey; Staff Sergeant; US Army; Active Duty since 1986.
King, Bernard; US Navy; Radarman 2nd Class (E5); Vietnam Veteran.

Linde , Lloyd; Staff Sereant; US Army; WWII Veteran. Deceased: July 11, 1998
Munro, Charles Jr; Staff Sergeant; USMC; WWII Veteran, deceased 12/3/95.
Munro, Charles III; US Navy
Munro, Charles IV: US Navy: Active: USS Harry S Truman
Schwartz, Marty; Tech/Sgt;Age now 75 (4 years of service); 390th Bomb Group (Most decorated group in WW2); 8th Army Air Force.;Downed 29th mission; Escaped and was recaptured.
Solari, Daniel A.; PFC; US Army.
Please Visit:

Tackett, Scott A; Jr.;1st Lt. is now his Company's Executive Officer (1/67 Armor)stationed at Fort Hood,Texas with the 4th Infantry Division.
Tackett, Scott A.; Sr: US Army
Varelas, Al; USMC, 26th Marine Regiment; Decorated Vietnam Veteran


Wagner, David C.; SPC; US Army; Active Duty since 1995.
Please add your name to our list here:
"A BATTLE PRAYER"
Young Warriors;
Should fate find you on the battlefield,
May your cause be a just one.
May your courage not falter.
May you show mercy to your enemies.
May your efforts bring the blessings of peace.
May you be triumphant and earn victory.
May your sacrifice be always appreciated.
May you endure the conflict unharmed.
Should you be harmed,
May your wounds heal.
Should you perish in the struggle,
May God embrace you and find a
Place for you in his Kingdom.
Above Prayer by
Scott A.Tackett Sr
A Special Thank You to Melyssa Mayne for "The Soldier" Poem.
Purple Heart GIF fromJohn P. Lorf US Marine: Retired.

LE FastCounter
For more information on Veteran's;
Check at Barnes & Noble

This page last updated: June 13, 1999