We shall attempt to take you on a little visit of the Hamlet of Collins Center, Town of Collins, County of Erie, State of NY. As was noted in our general section, we are not a large town, nor do we have a large population. We no longer have industry, and outside of a few, small family owned businesses, our business community has all but died!
Collins Center was not always a dying community. In fact, all through the 1800's and into the 1900' we were a strong, thriving community. We were a totally self-sufficient area / neighborhood. As recently as the 1980's we were still a community struggling to survive. But, technological advancements began to stranger our self-sufficiency. Instead of thriving, we started dying. Yet, there are still people, such as myself, who feel that Collins Center is an area rich in enticement. Anyone who takes the time will realize that Collins Center, NY holds a great historical significance. We are an area where it is still safe to raise your children. We are developed, yet backward. In other words, we resolve to peace, to helping our neighbor, to doing for ourselves. While we must travel to work, to survive in this era of economic uncertainty, we are still better off living in our own little world.
Below you will see an image of our world: It is the map which indicates to the world that this area does indeed, exist. Please pay close attention to this map. Future pages will reference this map to indicate the changes which have occurred in Collins Center over the past 177years.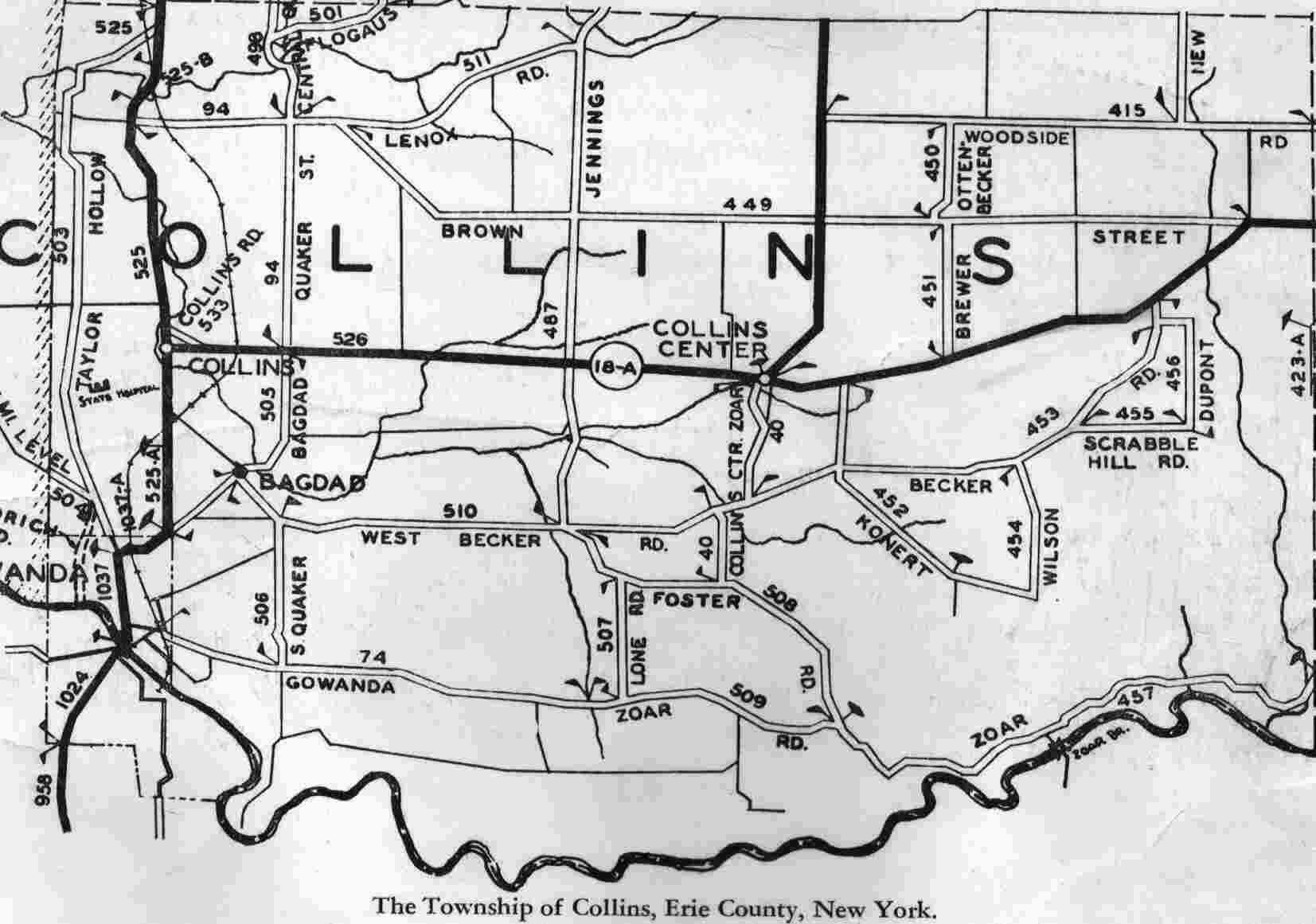 In The Beginning
Collins Center is a Hamlet situated in the center of the Town of Collins, County of Erie, State of New York, U.S.A. The Town of Collins is located in the southwest corner of Erie County. Collins meets with the Town of North Collins at its northern boundary, the Town of Concord at its Eastern boundary, the Cattaraugus Creek at its southern boundary, and the Cattaraugus Indian Reservation at its western boundary. (note-The Cattaraugus Indian Reservation was once considered a part of the Town of Collins, as early as the 1950's this Reservation became an entity of its own.)
The first settlers to the Collins area were Jacob Taylor, Stephen Twining and Hannah Jackson. This trio of Quakers, arrived somewhere between 1806-1807, locating on lands adjacent to the Indian Reservation. At the time of their arrival, the area was known as the Town of Erie(1805), County of Genesee(1802). (note-Local history refutes the actual date of settlement, claiming that the area was settled when the land deeds were claimed in 1809. This may be due to the changing of government; i.e., the area became the Town of Willink and the County of Niagara in 1808.)
By 1812, thirty families had moved into this wilderness settlement and government would again change. Now the Town was known as the Town of Concord.
Nine years later, March 16, 1821, the Town of Collins would be set off from the Town of Concord. On April 2, the area became Erie County. In 1852, the final political change would occur, North Collins would be set apart from the Town of Collins. The present boundaries were finally situated. The rise and fall of Collins Center was looming on the horizon.

"Click for Collins Center, New York Forecast"
After reviewing our Collins/Collins Center History pages, please return to sign our guestbook.
We would like to know what you think!

View my Guestbook | Sign my Guestbook
Enjoy reading historical documentation?
Check out the books at Barnes and Noble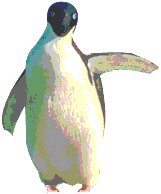 Click to search
FREE WEBSITE PROMOTIONAL SERVICE
EARN an EXTRA INCOME
HITS2U.com
This page updated: March 22, 1999