LinkExchange Member
Schools
Private Residents to School Houses
The first school on record was a "subscription school" held in the home of Nathan King, (Collins Center) during the summer of 1811. Twelve children were subscribed (or enrolled) in this school. These types of schools were paid for by the parents of the attending pupils.
The second school was held in the Zoar Valley area of the Town of Collins. The first classes were held at the private home of Peter Patti in 1812. By 1813, the number of enrollees had increased enough to warrent the building of a school house in the Zoar Valley area.
The next school was built in the Lapham's Mills (Bagdad area) in 1815. Since there are no earlier records, we do not know whether classes were held in private homes, in this area, at an earlier date.
By 1817, regular classes were being held in the Collins center area, and a school house had been built. (According to rumor, the school was located approximately in the same area as the old Free methodist Church.)
In 1818, the first school was opened on the Cattaraugus Indian Reservation.
Formation of School Districts in the Town of Collins
Once the Town of Collins was legally incorporated, a budget was set up to provide for public schooling, but only allowed for a few dollars annually. In the mid 1820's public funding was utilized to build the first public school house, in what would be known as District Number 18 (renamed District Number 9 about 1880). The structure would be replaced in later years, and become known to local residents as, "The Little Red School House." This structure, which has been converted to a private residence, still stands near the corner of Collins Center Zoar Road and Foster Road.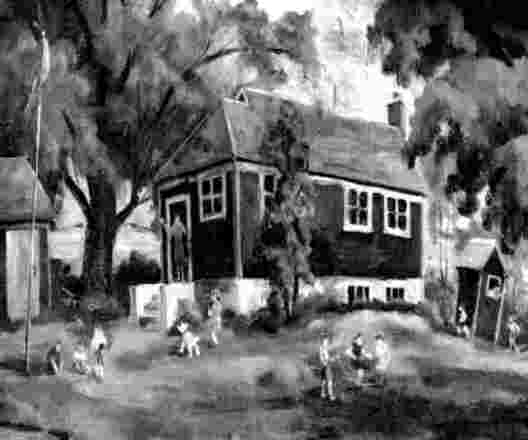 Painting by J. McKeon
District number 18, later (approximately 1880) to become district number 9, was known as the Rosenberg District. The original school house for this district, was built on private property near Rosenberg Corners. This building burnt in early 1832. By the end of that same year, a new frame building had been built at Rosenberg Corners. The total cost of construction was $120, this price included the cost of a stove. (The stove was quite an unusual luxury. School houses were generally heated with fireplaces.)
Formation of School Districts in the Town of Collins
SCHOOLS
District number 2, or the White school district, encompassed the Sisson Highway / Brown Road areas of town. The first school house was built in this district approximately 1835. In 1925, this district was bonded in order to raise funds to build another school building. This would be the last one room school building to be built in the Collins / Collins Center area.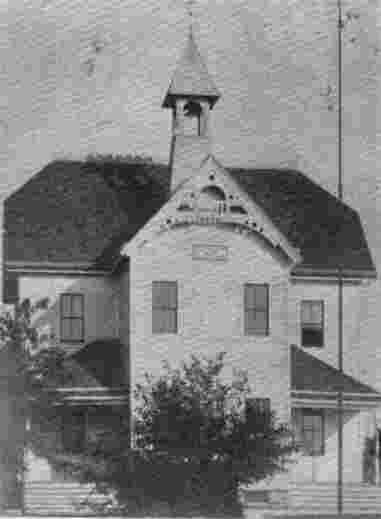 Additional school districts included, District number 16, later changed to District number 7; better known as the Poverty Hill school district. This district was organized in 1842.
The first school house in the hamlet of Collins was not erected until approximately 1849. (This building, now a private residence, is located on Route 39, across from Mill Street.)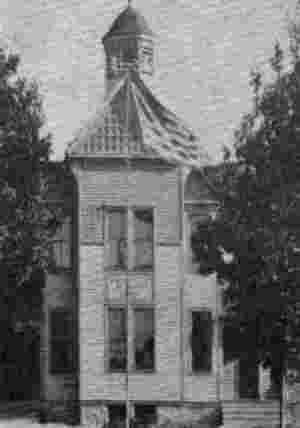 A two room school building would be erected in 1887 (on the site of the present L. K. Painter Center), it burnt in 1917 and was replaced by a four room brick building. In 1954, this school would become part of the Gowanda Central School District.

This page last updated: January 29, 1999