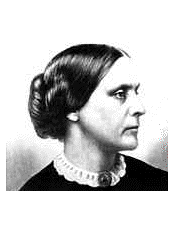 Susan B. Anthony
1820 - 1906
A devout Quaker, she bacame a teacher, temperance advocate and abolition organizer; a liflong advocate for women's rights. Exceptional political instincts made her a naturally outstanding women's rights leader.
In 1850, she met Elizabeth Cady Stanton. This meeting developed into a life long friendship. She dedicated her life to emancipation and women's rights. In 1854, her devotion led her to take suffrage petitions door-to-door.
She also published The Revolution from 1868-70, but the debts it incurred forced her to stop publication. It took her 6 years of lecturing to pay off its $10,000 debt.
Her lectures advocated equal pay for equal work, an ideal which is still being sought (on some levels).
Susan B. Anthony was one of the most ridiculed women in the history of the woman's rights movement. Influenced by Susan's encouragement, women formed unions, thus adding even more masculine ridicule. Susan B. received far more ridicule than any other woman suffrage leader. Vicious rumors, including rumors that she was a devout lesbian surfaced. Yet, Susan did not allow this to hinder her efforts, instead the attacks led her to become more determined. Her determination led to further ridicule; including, satirical cartoons and newspaper attacks.
Anthony was the driving force behind the National Woman Suffrage Association 1869-90. She was also the force behind the National American Woman Suffrage Association from 1892-1900.
She was active in state campaigns from Kansas (1867) to California (1896), she spoke all across the country for approximately 30 years.
Her efforts single-handedly championed federal amendments. She became known as "The Invincible" and "The Napoleon of the woman's rights movement." Fourteen years after her death, she was accredited with the passage of the 19th Amendment: Women's Right To Vote! This was something that Susan B. never had the opportunity to legally participate in.
In 1872, she took the initiative and voted in the National election. This act led to her arrest and ultimately her conviction. The publicity, however, won her even more popular support. Her trial drew celebrities from all walks of life; writers to lawyers, women to men.
In 1876, she led the Centennial protest. Her actions won her international respect, making her the international symbol for the woman's movement.
Elizabeth Cady Stanton best described Anthony: "She has a broad and generous nature, and a depth of tenderness that few women possess."
Her legacy lives on. In 1979, Susan B. Anthony achieved yet another honor. She became the first woman to be pictured on any United States circulating currency; The Susan B. Anthony silver dollar.
These children are missing

Please click on to any name to learn more
This page last updated: January 20, 1999